Rent Romus' Life's Blood Ensemble


Current Roster: Rent Romus

•

alto saxophone

Timothy Orr

•

drums/percussion

Safa Shokrai

•

double bass

Max Judelson

•

double bass


Heikki "Mike" Koskinen

•

e-trumpet/recorder

Joshua Marshall

•

tenor saxophone

Mark Clifford

•

vibraphone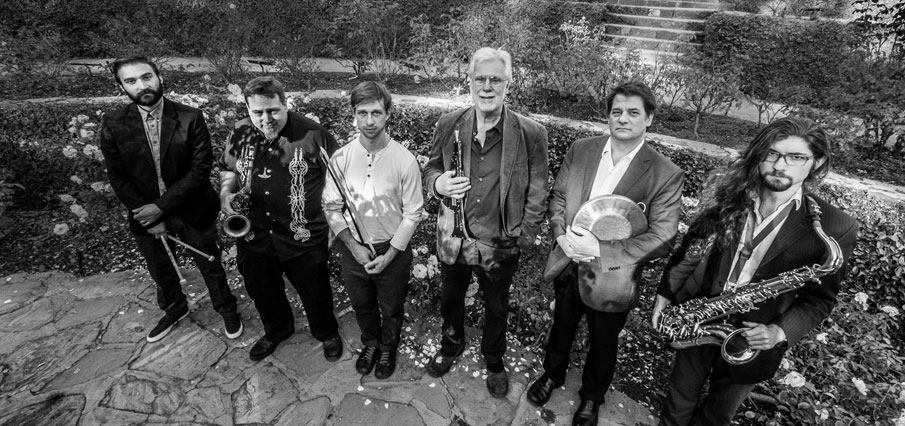 Life's Blood Ensemble, Berkeley CA (left to right Mark Clifford, Rent Romus, Max Judelson, Heikki Koskinen, Timothy Orr, Joshua Marshall) photo by Peter B Kaars
"Indeed, Romus and associates have reached a milestone with this top-notch outing that defies strict categorizations when considering bridges between free improvisation and modern progressive jazz. It's a seamless incorporation of the best of many worlds." - Glenn Astarita, All About Jazz

This visionary group lead by saxophonist composer Rent Romus, pays tribute as well as bring to light, reinvent, deconstruct, and delve into the deep realms of their collective body of memory. Their repetoire features original composition and contemporary local and international composers while exploring the influences and inspirations of jazz and free improvisation. Life's Blood debut recording was released in 1999 and featured Danish drummer Stefan Pasborg and bassist Jonas Westergaard while Romus was on tour in Northern Europe.
Jazz journalist Andrew Gilbert who wrote the liner notes for their 2016 recording Rising Colussus states that "Life's Blood Ensemble dives headlong into a disparate array of compositions, opening and closing with very different works inspired by epic tales..."



Press Quotes:


"Offers a chaotic rhythmic structure and focused wailing that is grounded..."
- Mike Borella, Avant Music News

"They explore the subtle borders of style and element within jazz and improvisation." "Fresh innovative jazz...The expression is emotional but eloquent, smooth yet cerebral."

-

KFJC FM 89.7 Los Altos Hills


"Romus and the Life's Blood Ensemble play jazz for the new age."

- Jack Goodstein, Blogcritics


"...sinewy grooves...A Love Supreme's stratosphere..."

- Tom Hull, jazz critic




Download Press Kit





Life's Blood Septet performing "Rising Colossus Suite" @ Gold Lion Arts Sacramento, CA photo by Kenny Mann

Life's Blood Ensmble at SF Music Day 2018 photo by Scott Chernis