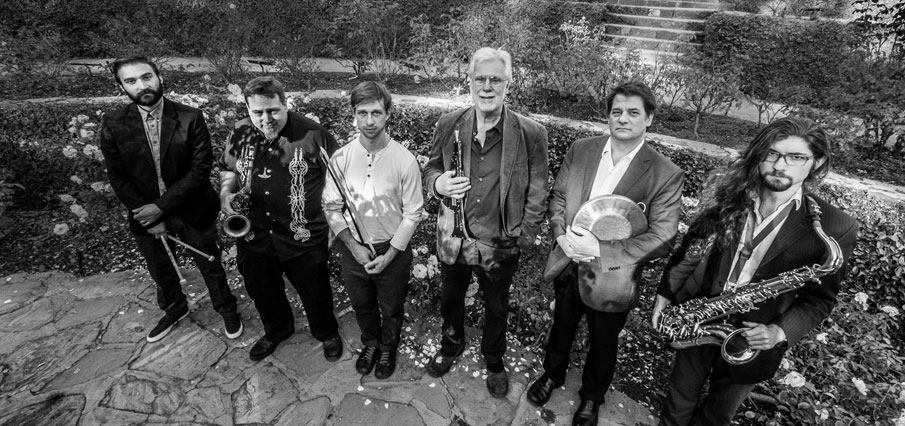 Life's Blood Ensemble, Berkeley CA (left to right Mark Cliffordl, Rent Romus, Max Judelson, Heikki Koskinen, Timothy Orr, Joshua Marshall) photo by Peter B Kaars
Rent Romus' Life's Blood Ensemble
"damn well rock their Jazz"
says blogger disaster amnesiac, while exploring
the influences and inspirations that make the art of jazz and improvisation timeless.


They pay tribute as well as bring to light, reinvent, deconstruct, and breathe life into the deeper realms of their collective body of memory performing original music, as well as contemporary local and international composers. Created in 1999 by saxophonist Rent Romus while on tour in Northern Europe, the group currently features drummer Timothy Orr along with a rotating cast of guest performers from the San Francicsco Bay Area.
Their latest album Rising Colossus released in 2016 "offers an incisive and often exhilarating glimpse at a scene that Romus has played an essential role in shaping. The LBE dives headlong into a disparate array of compositions, opening and closing the album with very different works inspired by epic tales..." (Andrew Gilbert SF Chron)
This visionary group pays tribute, reinvents, and breathes life into the deeper realms of their collective body of memory performing original composition, as well as music from contemporary local and international composers.


Life's Blood Septet performing "Rising Colossus Suite" @ Gold Lion Arts Sacramento, CA (left to right Joshua Marshall, Rent Romus, Mark Clifford, Heikki Koskinen
Timothy Orr, Max Judelson, Safa Shokrai) photo by Kenny Mann

Hailed by Downbeat as having "...a bold sound, unmistakeable sincerity and conviction",
Rent Romus
is a force spanning over 25 years of music production. He is the Founder and Executive Director for Outsound Presents producing over 80 shows a year for the contemporary and avant garde jazz communities as well as leading several groups from rolicking jazz to free abstract chamber music, to sound tracks for film and dance. His performance and recordings have included a wide range of artists including Thollem McDonas, Vinny Golia, John Tchicai, and Chico Freeman.


Timothy Orr
studied drums with Edward Blackwell from 1985-89 at Wesleyan University. Timothy has played with musicians in many fields, including Josh Roseman, Stephen Schwartz, Marco Eneidi, Richard Hell, Adam Lane, and many more.

The original members on the debut recording in 1999 feature Danish drummer Stefan Pasborg and bassist Jonas Westergaard. Other performing musicians include bassists Safa Shokrai, Max Judelson, Kim Cass, Markus, Hunt, Jason Hoopes, Eric Marshall, and Scott Wallton, as well as drummer Philip Everett, pianist Thollem McDonas, trumpeters Darren Johnston and Heikki Koskinen, and tenor saxophonist Joshua Marshall. In 2014 the ensemble was extended to a 13 piece orchestra for the debut of Romus' Otherworld Cycle, a new musical odeyssey inspired by the National Epic of Finland known as the Kalevala.


Press Quotes:

"explores the subtle borders of style and element within jazz and improvisation." "Fresh innovative jazz...The expression is emotional but eloquent, smooth yet cerebral." - KFJC FM 89.7 Los Altos Hills
"...sounds to me like what Charlie Parker should have sounded like if he was really as great as they say." - Tom Hull, The Best Jazz Albums of 2014
"Romus and the Life's Blood Ensemble play jazz for the new age." - Jack Goodstein, Blogcritics
"...sinewy grooves...A Love Supreme's stratosphere..." - Tom Hull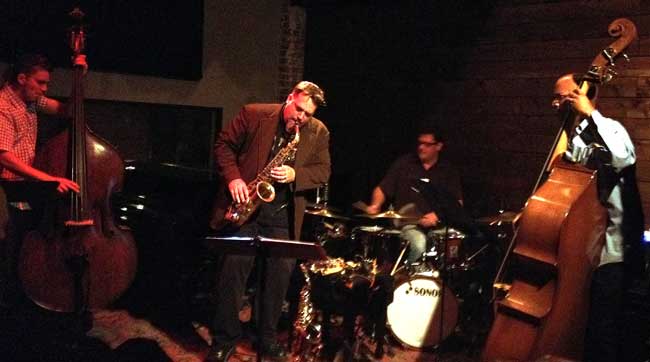 photo: Mark Pino (click for hi-res version)